We commit to providing safe and supportive environments which nurture the wellbeing of all students and staff in our community, and hold firmly to the belief that they have a right to be safe, respected and valued in an inclusive environment. We know that when students are happy, they are more engaged with their learning.
Schools benefit from wellbeing initiatives and pastoral care support through Sydney Catholic Schools – in areas such as anti-bullying, positive behaviour, student counselling, refugee support and child protection – which range from universal support for all students, to targeted interventions for students with complex social and emotional needs.
Respect and responsibility underpin the pastoral approach promoted by staff at the college. Year assemblies, which take place each fortnight, are opportunities for students to be reminded about their responsibilities to one another and their community. A constant focus in the past eight-years has been on responsible computer use and the dangers of cyber-bullying and thoughtless communications on social networking sites. The Year Coordinators, Pastoral Care Coordinator and the Assistant Principal are constantly revising their messages to students to engender positive approaches to life's problems.
Senior students model respect and responsibility constantly for junior year groups, in their everyday dealings with the staff, as well as the care they take with younger students. These attitudes are fostered through the pastoral care program and initiatives by the SRC, as well as mentoring programs. Together, these elements have built a unique culture whereby respect and responsibility are prized and valued.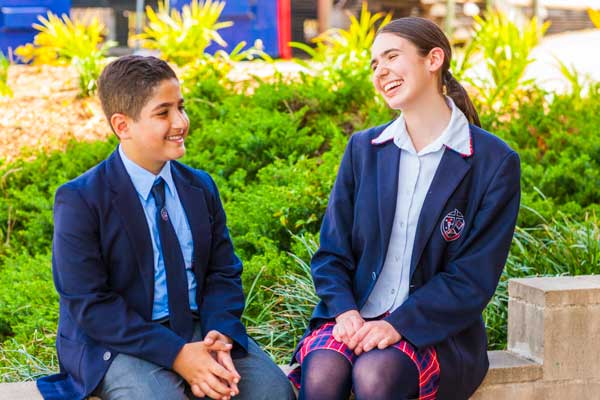 Sydney Catholic Schools reject all forms of bullying behaviours, including online (or cyber) bullying, by maintaining a commitment to providing safe, inclusive and respectful learning communities that promote student wellbeing for learning. Staff at Sydney Catholic Schools are committed to employing wellbeing strategies that allow for a healthy school environment where bullying is less likely to occur.
If your child is experiencing bullying of any kind, or you have a wellbeing concern, we have a number of support services available for parents/carers and students, as listed below.
Contact information for our school: 
NSW School Liaison Police: Senior Constable Allan Clapham – (02) 9725 8987, 0447 011 633

School Counsellor: Ms Christina Galani – (02) 9823 2073
Support services: